The Half Rabbits
THE HALF RABBITS are:
Michael Weatherburn: main songwriter/vocals/guitar
Chris Rant: guitar
Alice Watanabe: bass/backing vocals
Sally Pelling: drums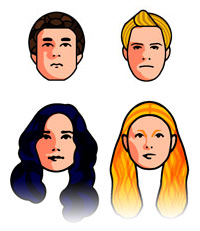 Sounding like Smashing Pumpkins meeting The Doors, The Cure, and Joy Division in a dark alley, the Oxford-based 2 girl/2 boy Half Rabbits sing songs about hope, courage, and speaking straight from the heart.
They believe that we should pull together instead of apart.
They've received critical acclaim from such luminaries as Rolling Stone and Drowned in Sound. The band's music and interviews have featured on a variety of national and international TV and radio shows such as MTV, TMF, BBC Radio, BBC TV and BBC 6 online. For The Half Rabbits' back catalogue and compilation features, see their discography.
Live, the band are fierce and commanding. They've gigged with an array of legendary bands, including Editors, We Are Scientists (at their first UK gig, no less), The Enemy, The Young Knives, Tapes n Tapes, The Duke Spirit … you get the idea. They also headline gigs themselves, including four times at the fabled O2 Academy in Oxford.
April 2010 ushered in the release of their debut full-length album, From The Horizon To The Map. The album is rooted in twenty-first century urban life: simultaneously uplifting and humbling, communal yet individual.
In spring 2011, the band celebrated the release of a new download only EP, Optimists, which can be downloaded at minimal cost from Bandcamp. The four track EP, which calls for optimism in a time of global uncertainty, was recorded by the legendary Pat Collier (Jesus & Mary Chain, Primal Scream). Later in 2011, they released another EP, Machine Triumphant.
2012 looks set to be a busy year, with new studio recordings in February, and a remix album due in March.